Explore Model
Contact us Now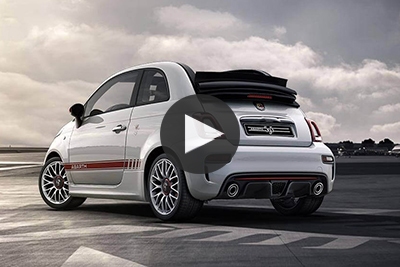 Abarth 595 in Tredington
The Abarth 595 is where your journey begins. This is the entry car to the Abarth brand, but there really is nothing standard about the 595. It is powered by a state-of-the-art 1.4-litre T-JET engine, with 145bhp and 206Nm of torque. That power is sent to the front wheels through a slick, short-shifting 5-speed manual gearbox or a 5-speed robotised sequential automatic. To put those performance figures into real-world wording, the Abarth 595 goes like stink and loves to be driven hard. And you'll be rewarded for doing so too, with responsive, finely tuned handling and big brakes to back you up. 0-62 mph takes just 7.8 seconds, and you'll love every second it takes. And when you do slow down to admire the view, the 595 transforms into a comfortable and practical hatchback. Are you ready for it?
Design
As alluring to look at as it is scintillating to drive, the 124 Spider is built with passion, expertise and love. The best engineers work on every build, and there's nothing else quite like it on the road. Elegant performance, personified.
Drive
With a manual (or optional auto) gearbox, limited-slip differential, sticky rubber, 50-50 weight distribution, powerful turbo engine and rear-wheel drive, the Abarth 124 Spider is a pure sports car. It's good for 0-62mph in 6.8 seconds and a million smiles per hour.
Practicality
As a strict two-seater sports car, the Abarth 124 Spider will never transport your whole family on a weekend getaway. But it'll definitely transport you and company comfortably, plus there's room in the 140-litre boot for a few bags.
Living with it
Exceptional craftsmanship, premium materials and useful technologies make the Abarth 124 Spider a unique proposition. It's a joy to live with, coming as standard with leather sports seats, automatic climate control and Keyless Go with Push Button Start.
Abarth 595 Interior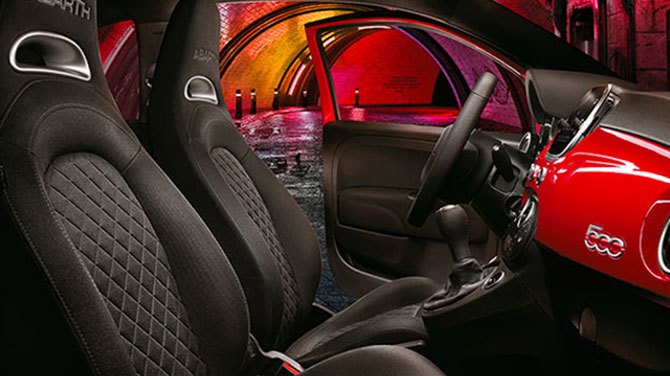 New Abarth 595 Colours
CIRCUIT GREY
ABARTH RED
CAMPOVOLO GREY
GARA WHITE
MODENA YELLOW
PODIUM BLUE
RECORD GREY
SCORPIONE BLACK
TROFEO GREY
GHIACCIO WHITE
New Abarth 595 Reviews

Abarth has hit this nail squarely on the head. If you want the most stylish and funky warm hatch on the market, this is unquestionably it RAC

The meaty steering, and indeed meaty, flat-bottom steering wheel itself, make for precise cornering and a solid feel to the input and feedback Car Advice